How to create a selfie wall
How does it work?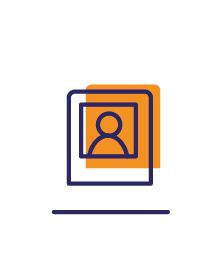 A funny way to open or close your session. Your audience can share selfies and other pictures in real-time!
Participants send in selfies of themselves or images related to your activity title or question, which are projected in real-time on your presentation screen as a wall of selfies.

The pictures appear randomly. Once the activity is over, you will be able to see a beautiful mosaic with all the photos.

---
Create a selfie wall

To create a selfie wall, click on "
+ ADD A SLIDE
" and select "
SelfieWall
".
Set up your activity
Enter the title and/or add instructions (optional)
Then, select the options you want:
Activity format: Enable your participants to send several pictures or limit them to one picture per participant.




Results:

It is up to you to add a closing picture and text (A logo for example that will be displayed in fade).


Approval:

You can moderate the game. This moderation option enables you to select what to display. When the moderation is activated, the facilitator receives a notification every time a contribution is sent. Click on the "moderate" button at the bottom right of the slide and access the moderation panel.

Time management: It's up to you to activate a stopwatch or a timer.

Display the number of selfies in real-time

And click on Save.

Here you are! Start your activity



​
There you go! Click "Start activity" to launch your Selfie wall.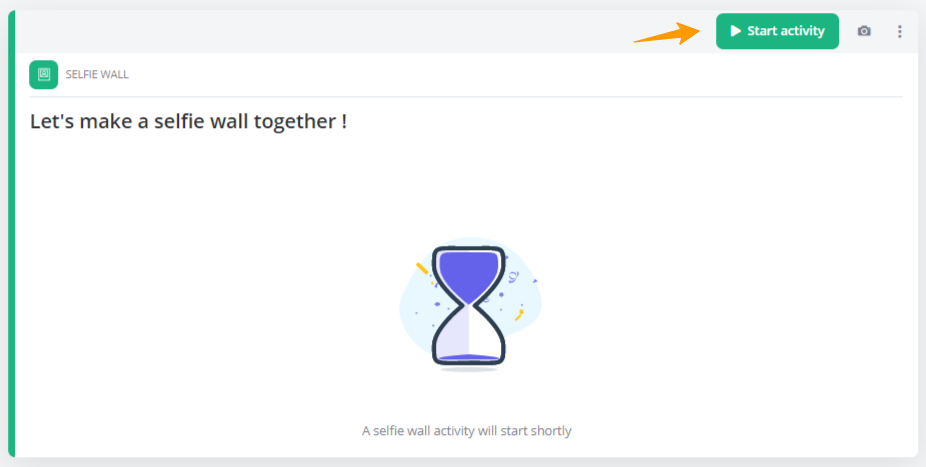 Click

Send

to select your picture and send it.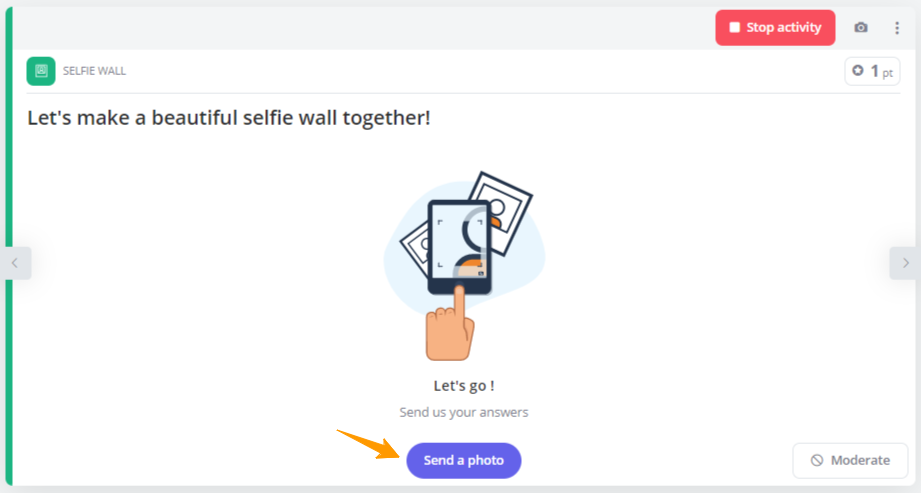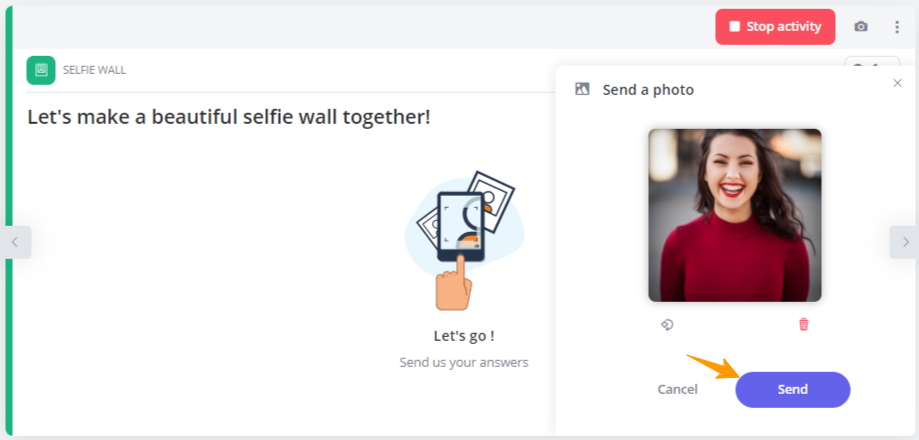 Read more about Selfie Wall activity

Related Articles

Create teams (available only in the Challenge activity)

Create teams and challenge your participants Only the "Facilitator control" mode allows the creation of teams, and created teams are active only in the Challenge activity. How does it work? Go to the settings on the left sidebar, Click Teams. ...

How to create an account

Your Beekast account enables you to join or create interactive sessions. Let's create an account! How to create your own account? Go to https://my.beekast.com/signup, then enter the required information. Or go to https://my.beekast.com, and click ...

Create a Board

How does it work? Collect ideas from your audience, organize and rank them in a vote. To create a Board, click " + ADD A SLIDE " and select the "Board" activity. General Enter the title of your activity and add instructions (optional). Activity ...

Create a Ranking

How does it work? Enter a list of statements or items to rank. Ask your participants to sort them in the right order. This could help you to test their knowledge on a topic! To create a Ranking activity, click on "Add a slide" and then on "Ranking". ...

Create a Canvas

Canvas Activity This activity allows you to collaborate visually and freely in whiteboard format, whether to create a visual management space or to explain a concept through a diagram. The Canvas activity is now out of Beta! Create a Canvas activity ...
Popular Articles

Change my Beekast password

From your "My account" space, you can change your password. To do so : Click on your avatar at the bottom left of your Beekast interface and then on "My account ". Then click on the heading "Security ". Fill in the fields "Old password" and "New ...

Live session

The projection mode Make sure that your device is connected to a Tv set or a projector. Read more on the Extended desktop Once your session is ready, click on Live session in the upper-right corner of the session. A new tab will be open next to the ...

Discussion: More collaborations and interactions

The Discussion is the space dedicated to increasing interactivity during your meeting and enabling participation. Contributors can post their messages, comments. Ideal for Q&A sessions! Publish a message Post a message 300-character message Attach an ...

Scoring systems in Beekast

Two scoring systems to engage and evaluate your audience. The Bees and the Points The Bees They are simply a scoring type used to rate the engagement of your audience. It shows the level of participation and interaction of each participant. The ...

How to add a facilitator

Add an facilitator to manage your session while you will be presenting. Adding facilitators is an option available to the Pro version. The facilitator can manage a session: Import/edit/remove slides and activities, start/close activities. moderate ...