How does it work?
To link a session with Twitter, just request for this option at
customer@beekast.com
It is possible to associate a Hashtag (
#
) Twitter to a session.
Once the
#
associated with your session, the tweets of your participants with this
#
will be published in the discussion space!
Please contact us at customer@beekast.com for a quote.
Once the

#

is created, you can share it with your participants aso that they can use it to send content from Twitter to the Discussion area.
######### Key rules to create a valid and usable "**#**"
The capitalization in tweets will have no impact. But, the use of accent will have one.
It is therefore important to think about all the possible ways of writing the #: with accents and without accents, but also to anticipate typing or spelling mistakes that participants may make.
So you can affiliate multiple hashtags.
The discussion's moderation works on tweets.
Emojis work.
Assigning a # is not retroactive: a tweet published with the same

#

before being associated with the session will not appear in the Discussion space.
"Like" in the Beekast's Discussion is independent from "like" and "retweet" in Twitter.
deletion in Twitter has no impact on messages sent in Beekast.
Your Retweet in Twitter is not published again in Beekast's Discussion.
The comment of a Retweet only appears if it contains the associated # as well.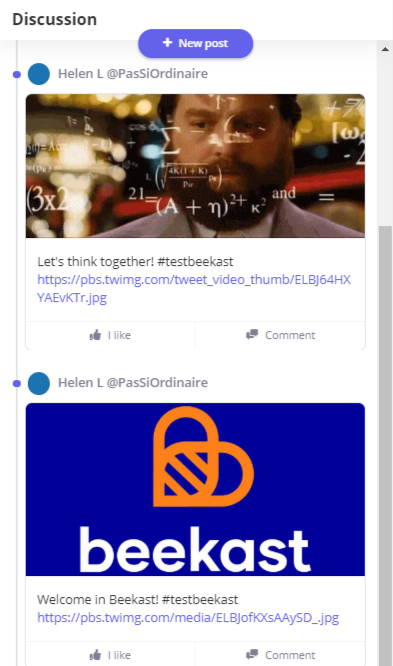 Tweets are necessarily authenticated: the Twitter's username (@) and nickname are displayed.