Add Beekast to a scheduled Teams meeting
It's now possible to add a Beekast session into a scheduled meeting in Teams.


This option is configurable only for MS Teams thick clients application (Desktop application from
version
1.4.00.29469), not available on the Browser application
.
---
How to create a scheduled meeting?

You can't add a scheduled meeting from a team.
To add a scheduled meeting in Teams, follow these steps:
First, go to the Meeting on the left sidebar of your Teams organization.

Click on Schedule a meeting at the top right of your page.

From this new page, fill in the fields to schedule your meeting.

Click on Schedule.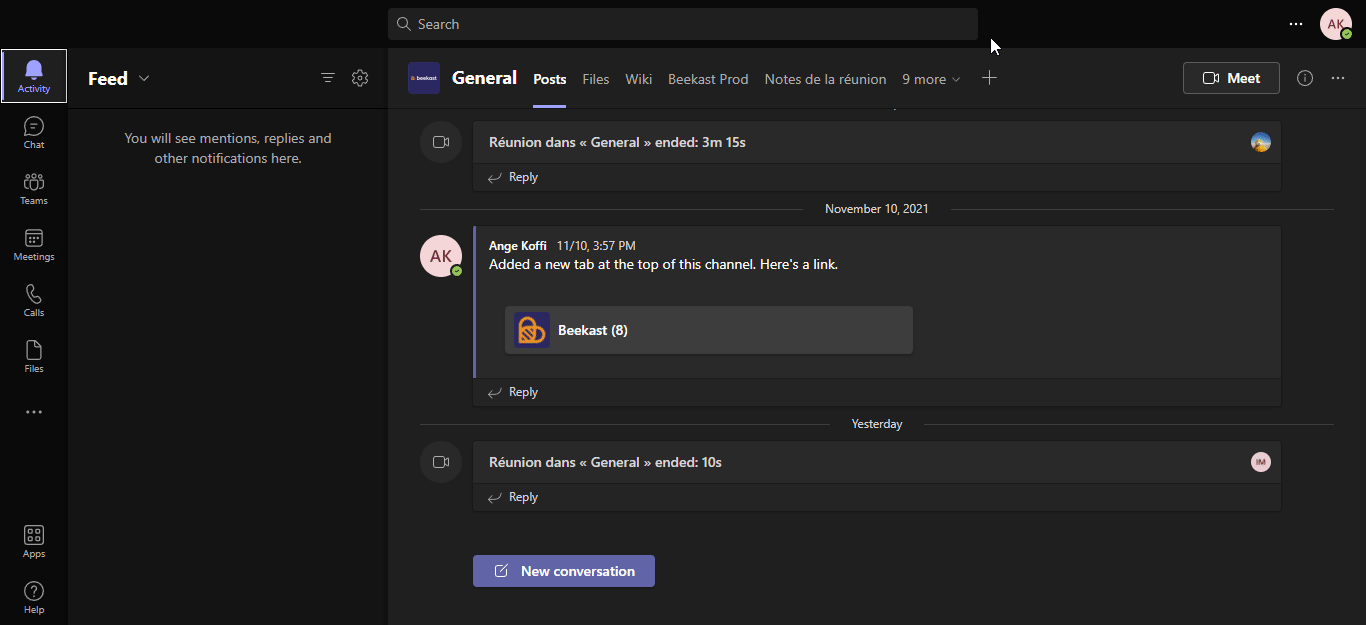 ---
How to embed your Beekast session into your Teams meeting?

Join the previously created meeting by clicking on
Join
on the right meeting.
Once in the meeting:
Click on the three dots at the top of the meeting screen

Click on Add an app

Select Beekast

And click Add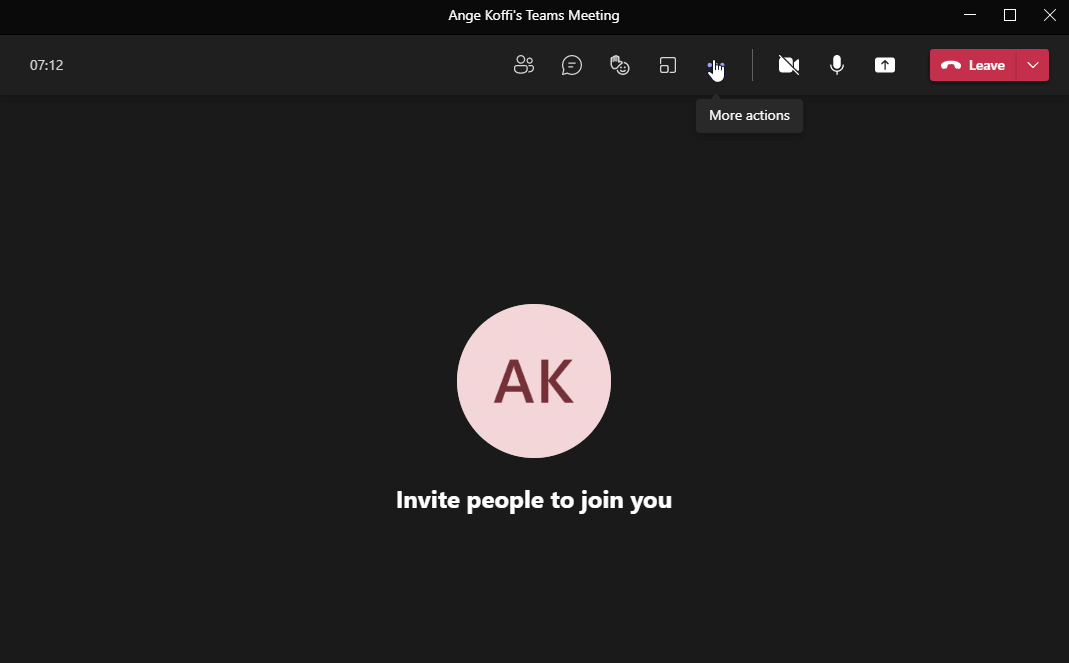 Log into your account if it's not yet done.
Select your workspace, then your session to embed. This session will appear at the bottom right of your screen.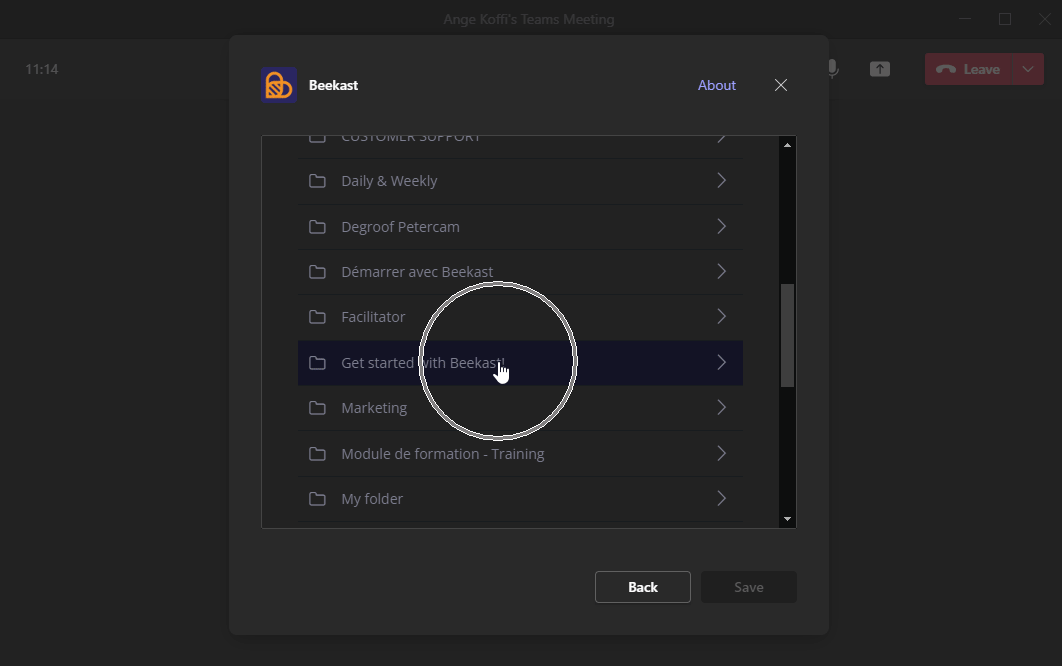 Now you can show your Beekast session to your audience on the main screen.
To do this, click on the
Start presenting Beekast
button (the arrow icon at the left).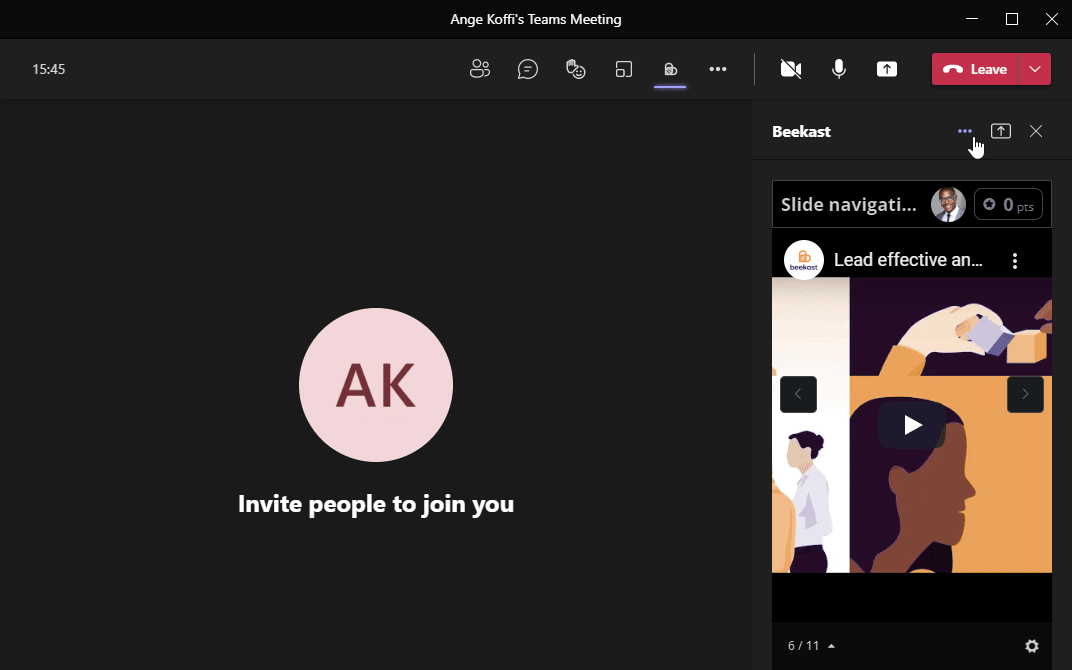 You can to find out Beekast and all the other applications added to your meeting, above the main screen of your meeting.

Click on the app's logo you wish to open it.


You will notice that adding an application (beekast) is only done in Dark Mode. This is a decision specific to Microsoft Teams

---
Related Articles

Start an instant meeting in Teams and share your Beekast session

Are you working remotely? ? Do you want to engage your teammates? You can start a video call and share your Interactive Beekast session at the same time. ? How to start a video call in Teams? To start an instant channel meeting: Go to Teams on ...

Using Beekast in Teams

Intro Microsoft Teams is a communication platform developed by Microsoft, as part of the Microsoft 365 family of products. You can download Microsoft Teams here. New Meeting and Calling Experience in Microsoft Teams! From now on, the video ...

Sign in Microsoft Teams with the SSO

Sign in Microsoft Teams with the SSO It's up to you to use the SSO to sign in Beekast through Teams. Add Beekast in Teams, then access the connection page to sign in with the SSO. At this stage, it's still up to you to sign in a different way. If ...

How to integrate Beekast into Webex Meeting

Working remotely? Start your Beekast session and invite your team members to join a video conferencing meeting that lets you get work done, anywhere. Here is a tip: The Webex video conferencing meeting. Beekast will enable you to organize your ...

FAQ Microsoft Teams

FAQ Microsoft Teams Can't find Beekast in MS Teams' app store? Your MS Teams' subscription does not allow you or your company prevents users from accessing some apps. Please check first with the IT of your company in order to get all/some rights. ...
Popular Articles

Change my Beekast password

From your "My account" space, you can change your password. To do so : Click on your avatar at the bottom left of your Beekast interface and then on "My account ". Then click on the heading "Security ". Fill in the fields "Old password" and "New ...

Live session

The projection mode Make sure that your device is connected to a Tv set or a projector. Read more on the Extended desktop Once your session is ready, click on Live session in the upper-right corner of the session. A new tab will be open next to the ...

Discussion: More collaborations and interactions

The Discussion is the space dedicated to increasing interactivity during your meeting and enabling participation. Contributors can post their messages, comments. Ideal for Q&A sessions! Publish a message Post a message 300-character message Attach an ...

Scoring systems in Beekast

Two scoring systems to engage and evaluate your audience. The Bees and the Points The Bees They are simply a scoring type used to rate the engagement of your audience. It shows the level of participation and interaction of each participant. The ...

How to add a facilitator

Add an facilitator to manage your session while you will be presenting. Adding facilitators is an option available to the Pro version. The facilitator can manage a session: Import/edit/remove slides and activities, start/close activities. moderate ...