Change my Beekast password
From your
"My account"
space, you can change your
password
.
To do so :
Click on your avatar at the bottom left of your Beekast interface and then on

"My account "

.




Then click on the heading

"Security "

.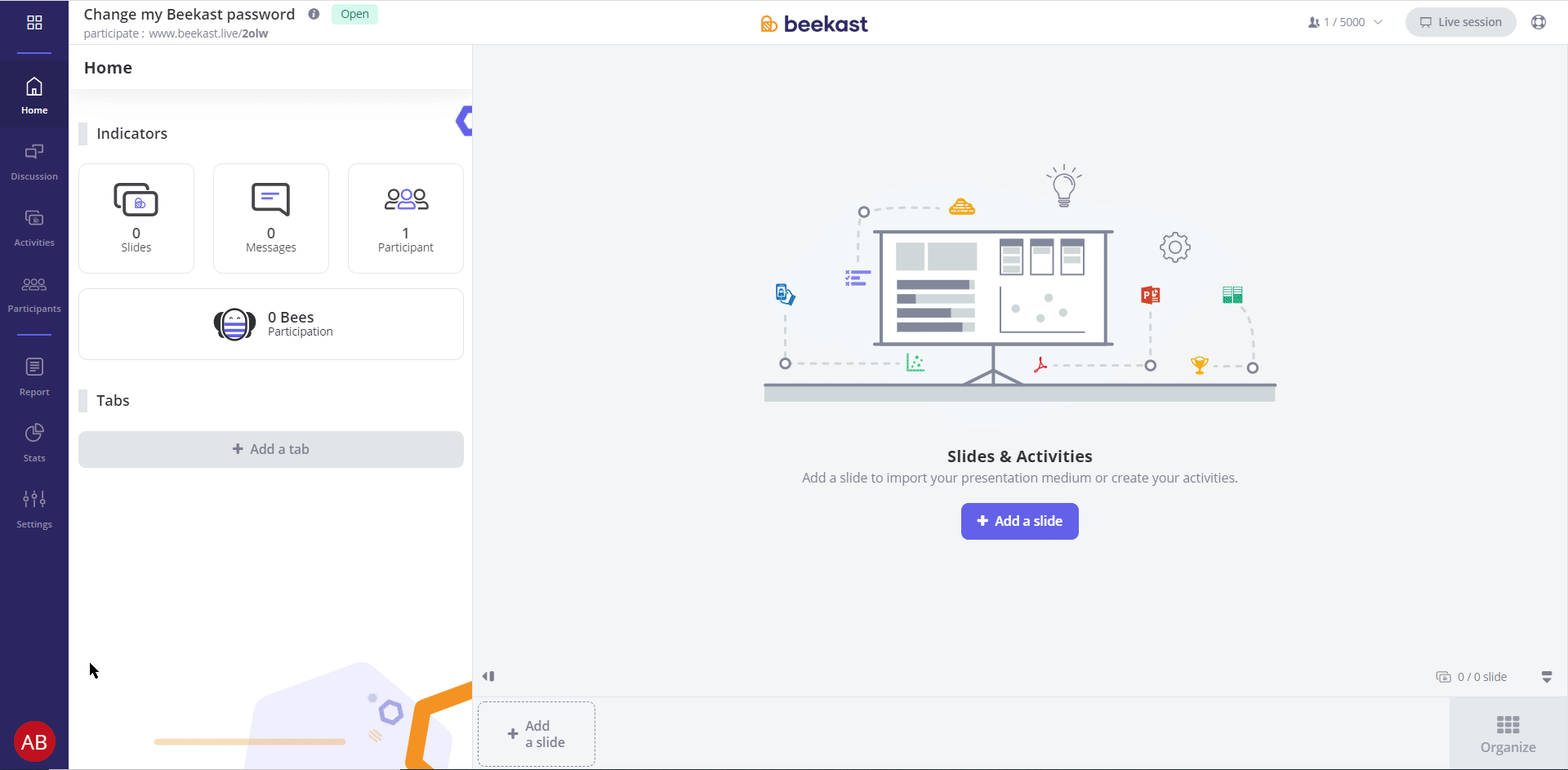 Fill in the fields

"Old password"

and

"New password"

.
When creating your new password, make sure that it meets all the requirements.
These will "turn off" as soon as the condition is met.
Once all the fields and conditions are filled in, click on

"Save "

.
A green banner will indicate that your password has been successfully updated.
That's it! Your password is changed 😉
Consult our guide
Retrieve my Beekast password
Related Articles

Recover my Beekast password

Recover my Beekast password. Follow the steps below to retrieve your password if you have forgotten it, or are unable to log in. Note: If you are logged in SSO (Single Sign-On), you do not have a password registered on Beekast. You will be able to ...

Change the language

Want to change the language? Beekast is available in seven (7) languages. French English Italian Spanish German Portuguese Nederland To do that: In your desktop interface, click on your avatar, the bubble at the bottom left of your account, and ...

Associate my Beekast account with my Devices

Upcoming feature: this feature will be available in November Security and devices ...

Using Twitter to interact in Beekast

How does it work? To link a session with Twitter, just request for this option at customer@beekast.com It is possible to associate a Hashtag (#) Twitter to a session. Once the # associated with your session, the tweets of your participants with ...

Creating your slide directly in Beekast

Create a new slide directly in your Beekast session and edit them at any time.
Popular Articles

Live session

The projection mode Make sure that your device is connected to a Tv set or a projector. Read more on the Extended desktop Once your session is ready, click on Live session in the upper-right corner of the session. A new tab will be open next to the ...

Discussion: More collaborations and interactions

The Discussion is the space dedicated to increasing interactivity during your meeting and enabling participation. Contributors can post their messages, comments. Ideal for Q&A sessions! Publish a message Post a message 300-character message Attach an ...

Scoring systems in Beekast

Two scoring systems to engage and evaluate your audience. The Bees and the Points The Bees They are simply a scoring type used to rate the engagement of your audience. It shows the level of participation and interaction of each participant. The ...

How to add a facilitator

Add an facilitator to manage your session while you will be presenting. Adding facilitators is an option available to the Pro version. The facilitator can manage a session: Import/edit/remove slides and activities, start/close activities. moderate ...

Guides

Documents to download You will find below as an attachment to this article a list of Beekast documents to consult. Don't hesitate to come back regularly for new versions. List of documents : - Administrator Guide (v6) - Beekast's ...