Are you working from home and wanting to organize a video-conference meeting with your colleagues? 🏡
How about going Beekast with Jitsi! 😃
On the one hand Beekast will allow you to carry out your meeting with the synchronization of your session data on all your participants' media. At the same time, you will be able to exchange in person and even see each other thanks to the Jitsi application that allows videoconferencing and much more!
Jitsi
It is now possible to connect Jitsi to one of your Beekast sessions in order to share the link of your Jitsi videoconferencing meeting directly in Beekast.
Your participants will be able to find the access link in the home menu of your session, and will only have to click on it to join the meeting!
Add a Jitsi meeting to your Beekast session
First, go to your session settings by clicking on the "settings" button in the blue banner on the left side of your session screen. Then click on the "Connected applications" section.
The connection to your Jitsi account is only valid for one session. It will not automatically connect you to Jitsi on your other sessions!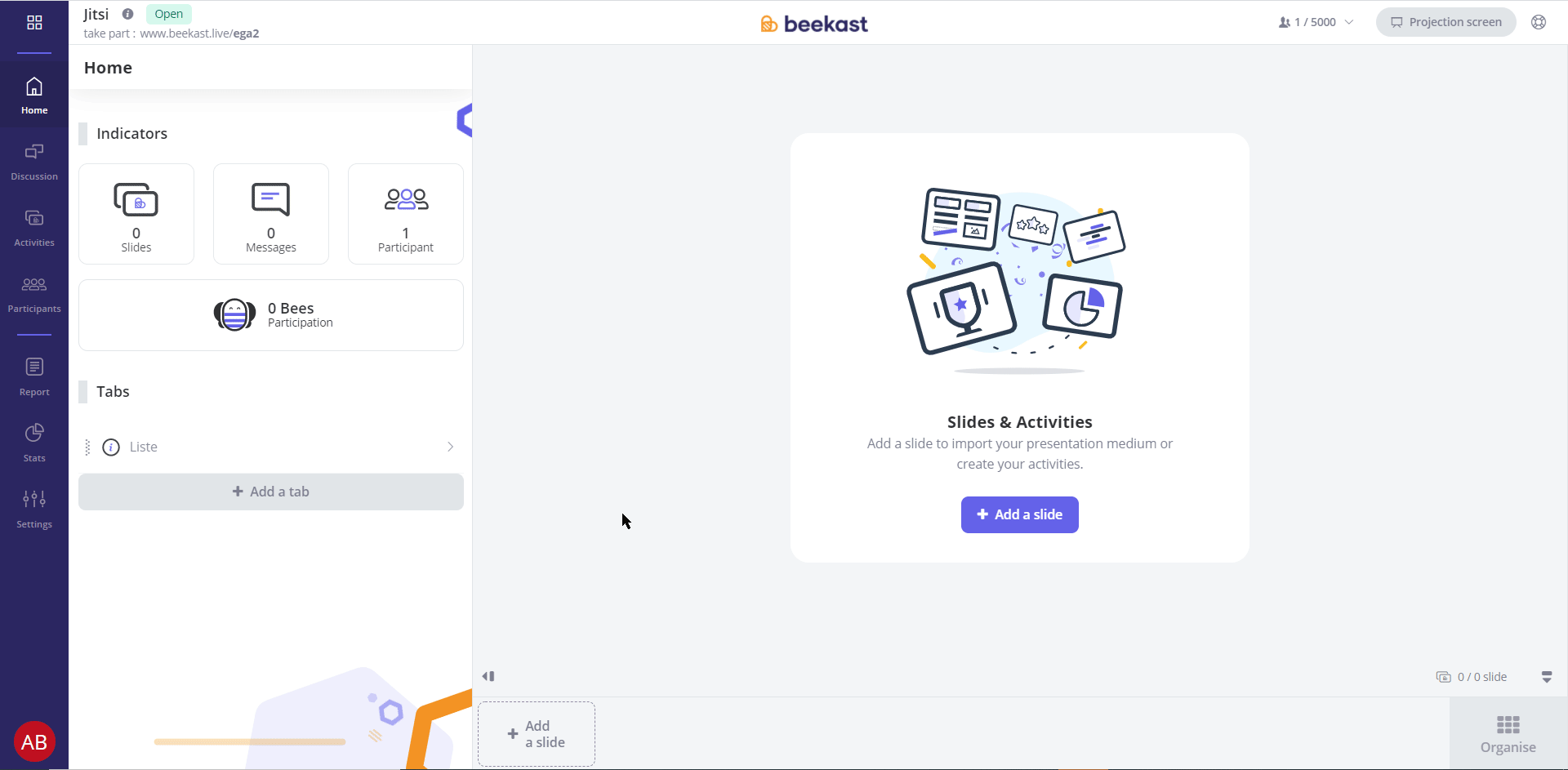 Jitsi is a tool that allows you to customize your access link to your meeting. But does not inform if it is already in use. So you can find yourself in the same meeting with people you didn't invite. This is why Beekast automatically generates a long random link (composed of numbers and letters) to make your link unique.
When activating the Jitsi videoconference, Beekast will offer to display the window of your videoconference either :
In

pop-up format

(floating window)
In

another tab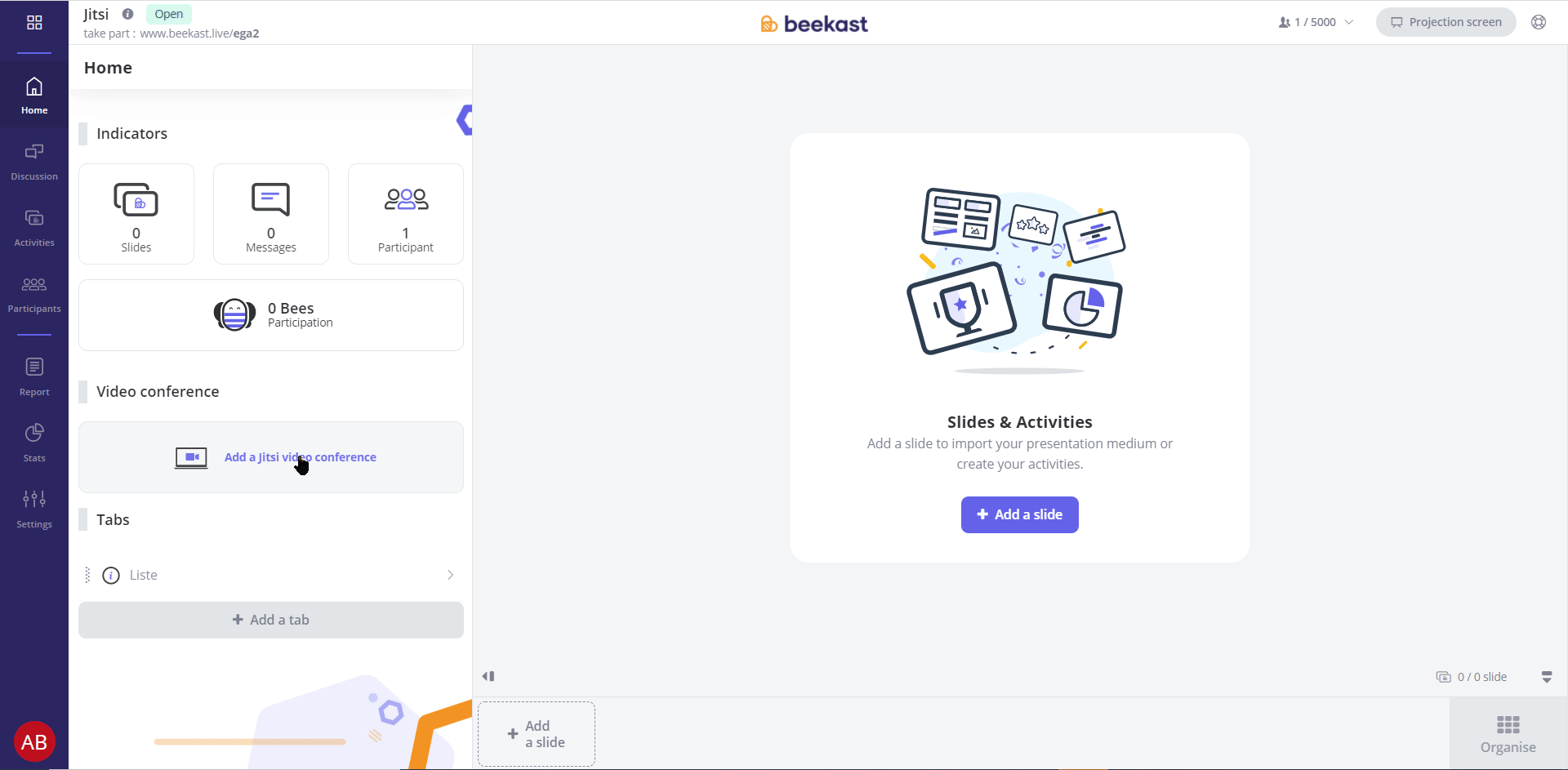 Pop-up Window
In Pop-up format, you will be able to :
Manage the size of your window by selecting the edges of it
Position your window at the desired location on top of your Beekast page (by drag and drop)
Access in the window, all the video conference settings and information.
Via the 3 small dots at the top right of the videoconference window, Exit the window or open it in a new tab.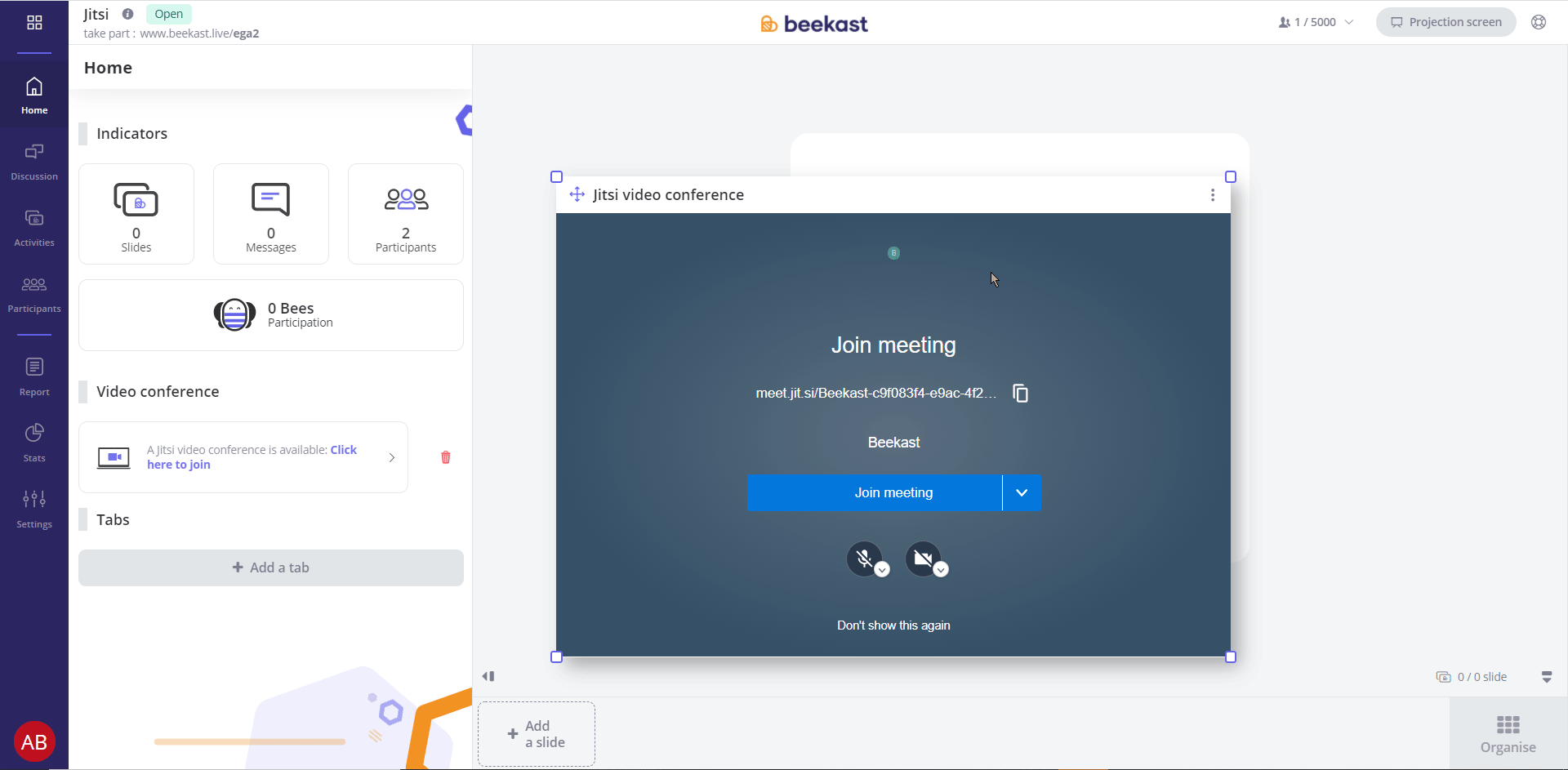 Window New tab
Enter your name before joining the Jitsi meeting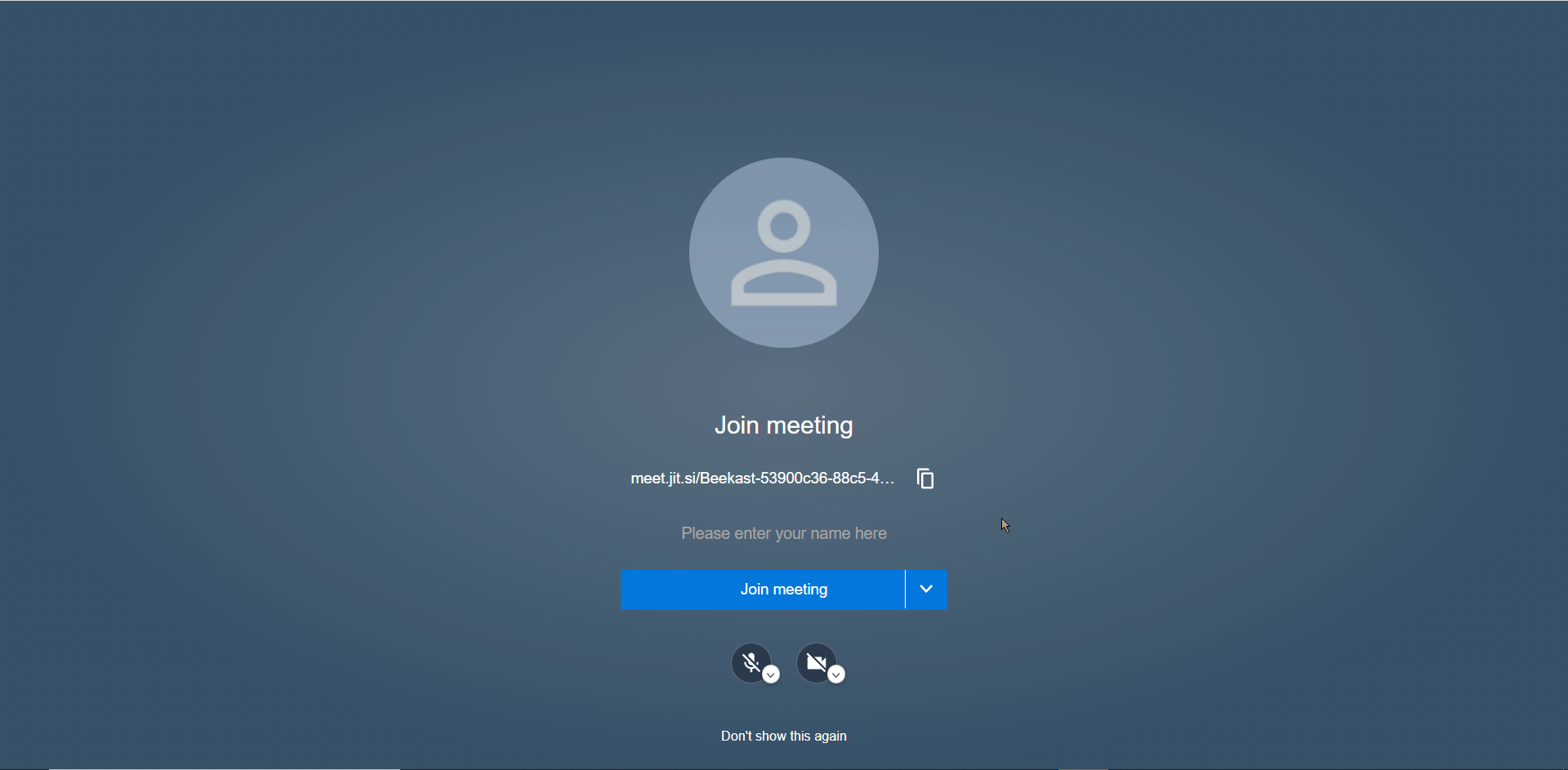 You can invite people at the top of the Jitsi screen
You can share your screen, give a hand to a collaborator on the presentation, or open the Jitsi discussion at the bottom left of the screen.
You can activate / deactivate your microphone, exit the conversation, and activate / deactivate your camera, at the bottom of the screen.
By clicking on the small arrows associated with the "Micros" and "Camera" icons, you will be able to access the settings for these two features.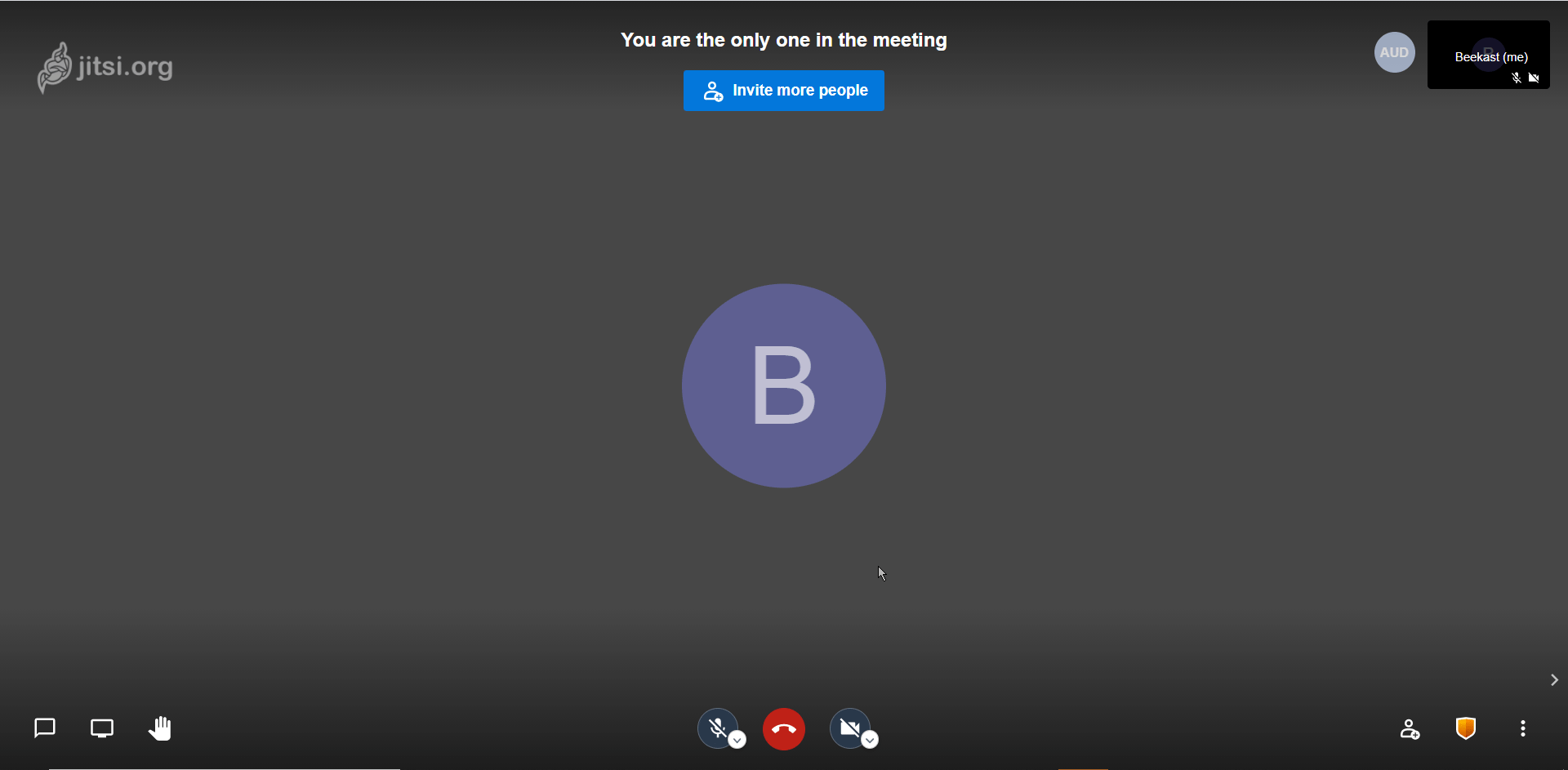 At the bottom right of your Jitsi page, you can :
- Invite new people to your Jitsi meeting
- Access login and security information for your Jitsi session.
- Via the 3 small dots : Access your Jitsi session settings, recording your meeting, mute all participants and much more!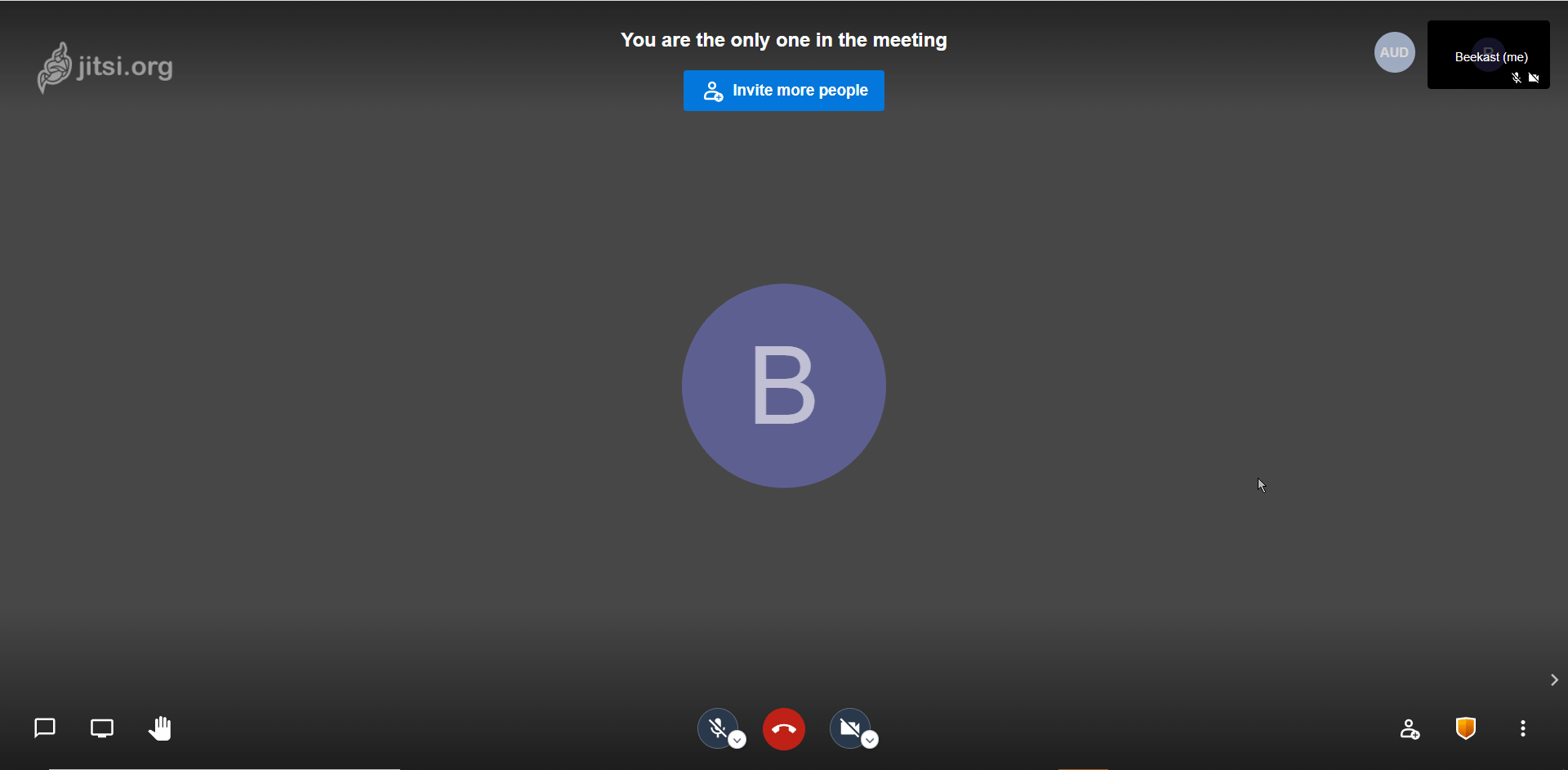 Unbundle your Jitsi account from Beekast
Go to your account, section "connected applications".
Click on the red basket
Confirm
Note that all meetings created from Beekast will be deleted.